Flexible, effecient, and cost-effective shore power that allows ships at berth to plug into the electrical grid and turn off their auxiliary diesel engines.
Shore power benefits
No emissions
No noise
No vibration
Lower fuel consumption
Lower wear and tear
Easier maintenance
PowerCon's shore power
Compact
Reliable
Cost-effective
Fast lead times
Flexible, scalable, modular
Maximum return on investment
Also known as Onshore Power Supply (OPS), cold ironing, shore-to-ship power and shore-side electricity to name a few terms, PowerCon pioneered the shore power industry by developing a much more innovative, modular approach to the technology. We think of shore power more as a product rather than an engineered solution that has to be built from scratch every time. By integrating our main components of transformers, switchgears, and frequency converters into standard shipping containers, we pioneered the "building block" approach to shore power, which allows us to put together the most suitable solution for any port.
The benefits of containerized shore power are many. Most importantly, the containers allow us to pre-manufacture, pre-assemble, and pre-test our solutions in our factory before we ship them on-site, where the containers also ensure easy and fast installation.
PowerCon's industry independence allows us to use the best and latest technologies and materials in putting together the best possible shore power solutions, whereby you also avoid a "closed box" solution or a proprietary technology that will limit your future adaptability and scalability.
We build our systems according to the international standard for shore power (IEC/IEEE/ISO 80005). PowerCon supplies both high and low voltage shore power solutions and covers all vessel types, from the largest cruise ships to container ships to smaller fishing vessels and ferries.
References – high voltage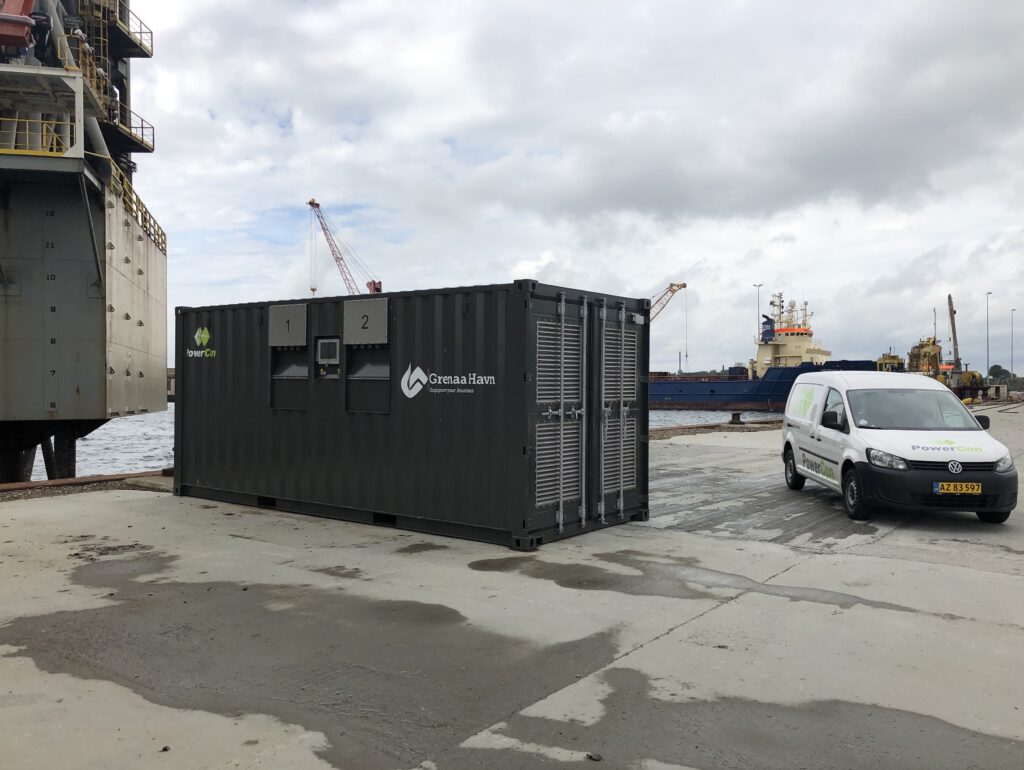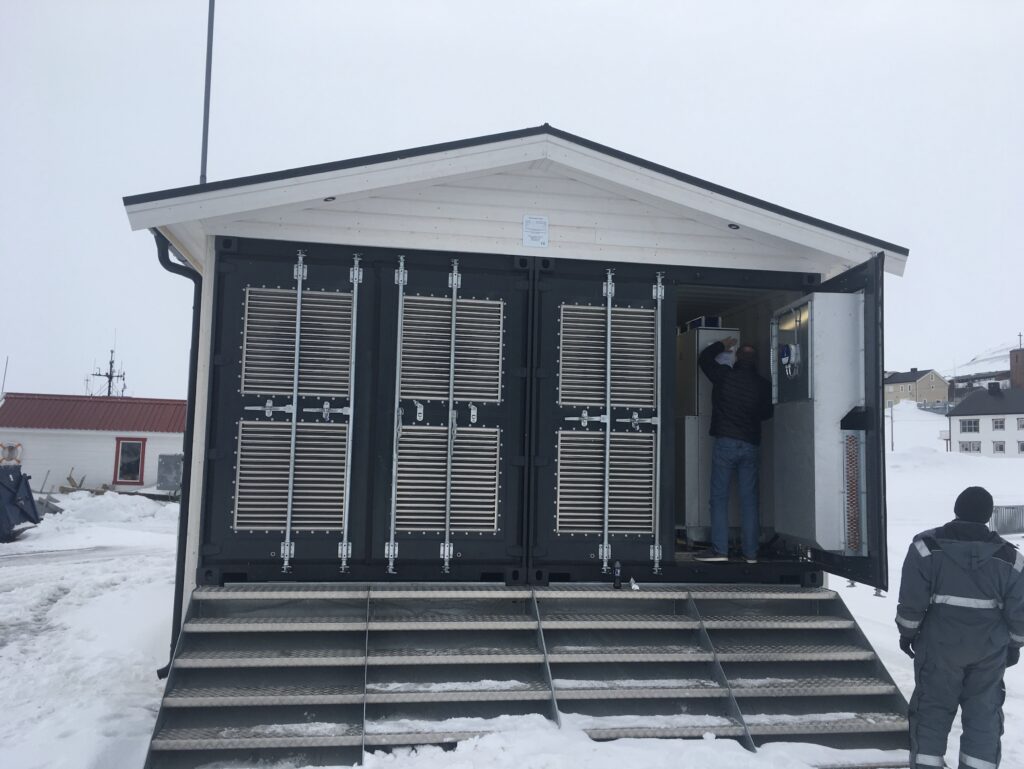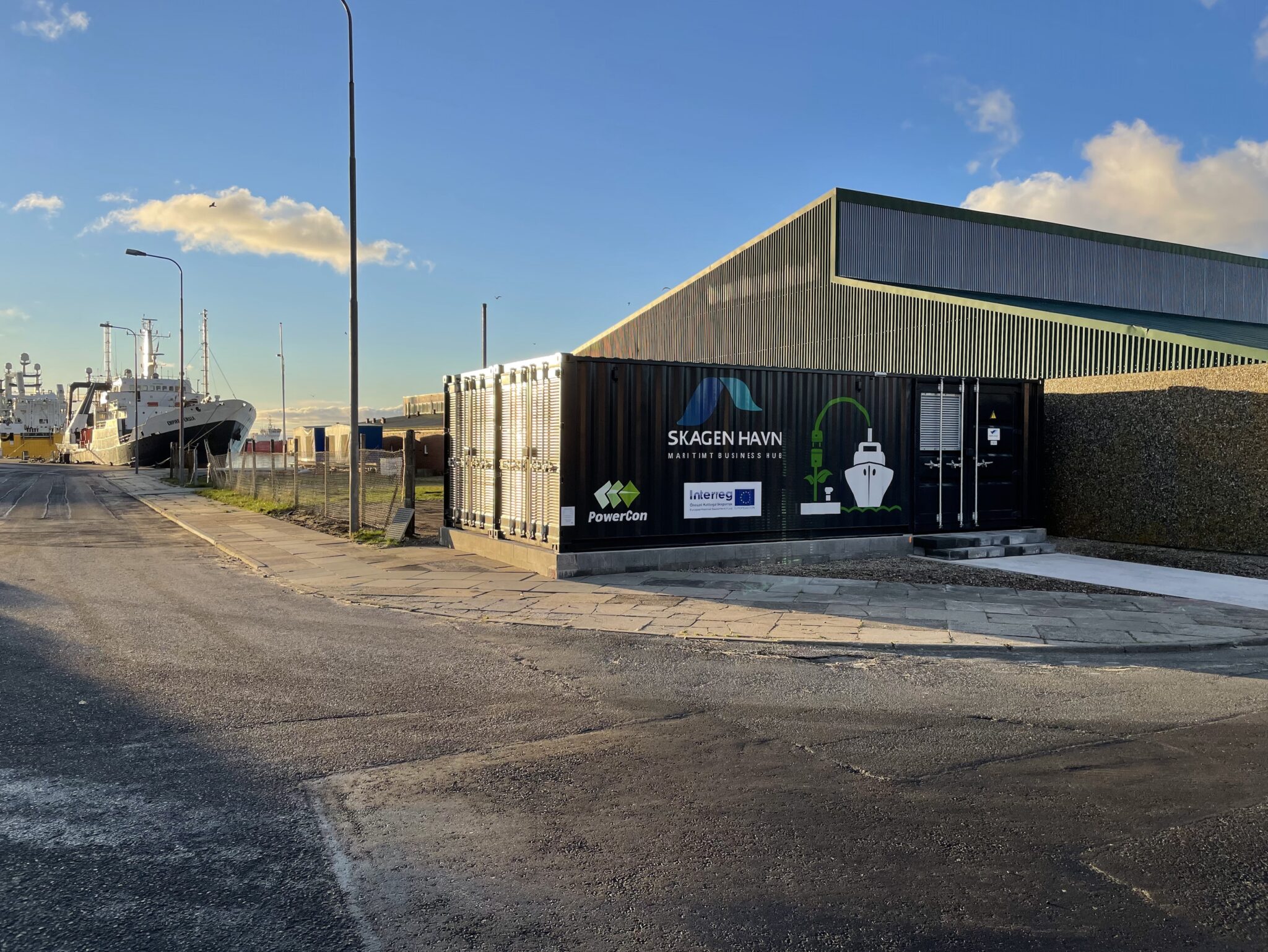 Another development that underlines PowerCon's strong experience and capabilities within shore power is that we are often chosen as turn-key supplier, undertaking the complete scope of the project. These tasks can include grid connection, civil works, cabling, structural design, switching stations, connection boxes, cable management systems (CMS), etc. Within those tasks, PowerCon works with a number of trusted sub-suppliers to cover the full scope of these projects.
This is especially true for the cable management system (CMS) which is the mechanical solution at the berth that feeds the cables from the quay to the ship. Several companies specialize in these CMS solutions, offering variable degrees of flexibility and price points. PowerCon has strong experience and relations with each of them and some of them are listed below.
Low-cost and flexible onshore power supply for containerships and onboard battery charging

Background
Containerships rely on the highly pollutant marine fuel to operate, contributing to 50-60% of all ship emissions. Onshore power supply (OPS) is the delivery of shore side electrical power to a ship at berth so its main and auxiliary engines can be turned off. In the cases where the electricity comes from renewables, OPS is a local mitigation measure that eliminates all CO2, air pollutants, noise, and vibration at the port terminal. However, with the possibility to charge onboard batteries, OPS can also have a significant global CO2 mitigation potential.
PowerCon pushing the boundaries
PowerCon has in the recent years been a part of the success of OPS systems for the cruise ships segment by adding significant savings to cruise ports, making it obvious to offer the same savings to the containership segment and expand the system capabilities to charge onboard batteries. Therefore, the main objective of this project is to advance the technological and market readiness of a competitive OPS solution – named OPS-Charger – to provide electricity to containerships when at berth to supply their consumers and charge onboard batteries. For 36 months, we will mature, test, and demonstrate OPS-Charger in a real case scenario.
Outcome
The main outcome of the project is a market ready solution to offer for the first time a cost-competitive and flexible OPS solution for containership ports around the world, ensuring a reasonable payback period. The market adoption of our solution is expected to contribute to:
1) reduce greenhouse gas emissions, pollution, noise, and vibration from containerships at the port berth and sea, thereby contributing to the UN Sustainable Development Goals 3, 7, 9, 11, 13, and 14.
2) the circular economy.
3) the creation of high-value blue economy jobs.
Overall, the ambition of this project is to significantly impact the blue economy areas of "New facilities that support the diversification or energy efficiency of ports" and "Cleaner shipping".
The project is supported by a BlueInvest grant from the European Union